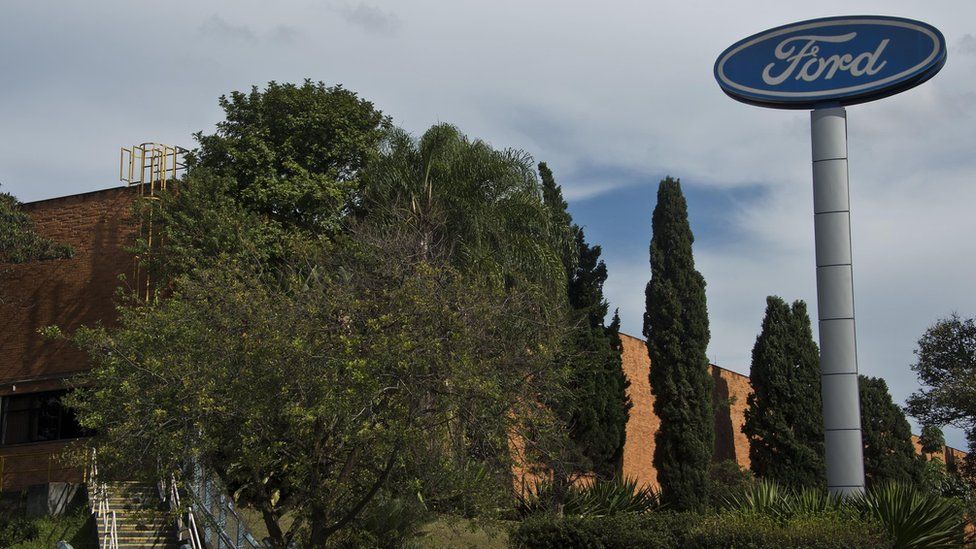 Ford has said it is closing its last three factories in Brazil, putting an end to decades of manufacturing presence in the country.
The US carmaker blamed the pandemic, which it said had amplified years of poor sales and "significant losses" in the region.
About 5,000 people, mostly in Brazil, are expected to lose their jobs.
The decision is part of a global restructuring by Ford as it tries to improve its financial performance.
"With more than a century in South America and Brazil, we know these are very difficult, but necessary, actions to create a healthy and sustainable business," said Ford chief executive Jim Farley.
Before the Covid outbreak, Ford had announced plans to scale back in several markets, with closures in countries that included Brazil, the UK, France, Germany and Russia.
It cut thousands more jobs last year amid a downturn in car sales due to the pandemic.
'Committed to the region'
On Monday, Ford said it planned to stop operations at its Camaçari and Taubaté plants immediately, though some production of parts will continue for a few months to support inventories.
The Taubaté factory, which opened in 1974 near São Paulo, made engines, while Camcari, which opened in 2001, produced cars such as the Ka Hatch.
The Troller plant in Horizonte, in the north-eastern state of Ceará, which makes off-road vehicles, is due to shut in the fourth quarter of 2021.
Ford said it expected the wind-down to cost $4.1bn, including separation payments, and was working to find buyers for the plants.
"I want to emphasize that we are committed to the region for the long term and will continue to offer customers full sales, service and warranty support," said Lyle Watters, president of Ford South America and the company's International Markets Group.
Research firm IHS Markit estimates that global car sales dropped about 15% in 2020. In Brazil, sales dropped 26% and are not expected to recover for at least two years, Ford said.
Source: bbc