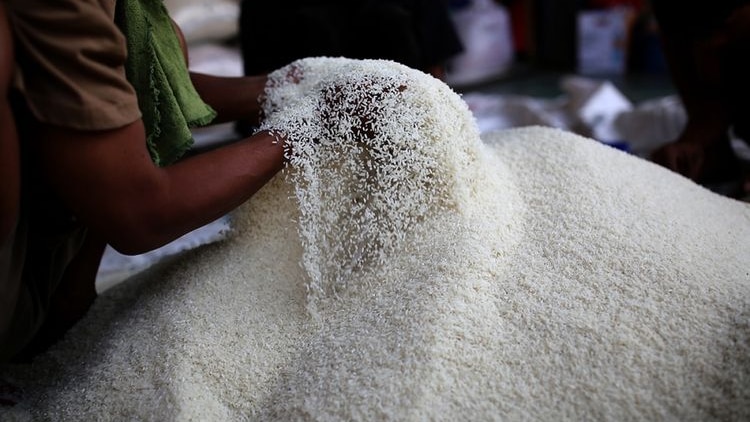 The Indonesian government plans to import 1 million tonnes of rice from India in an "emergency" situation, despite Indonesia being one of the biggest rice producers in the world.
The government said it is a "necessary" decision to ensure a sufficient supply of rice.
But Indonesian farmers have questioned the decision, while experts said there could be other ways to secure the country's rice stock.
So how is the debate shaping up in Indonesia, where rates of rice consumption are some of the highest in the world?
Why is Indonesia importing rice?
The agreement with India was made to anticipate the impact of El Niño, where Indonesia might see a longer dry season that would affect local rice production, Indonesia's Trade Minister Trade Zulkifli Hasan said earlier this month.
The minister also revealed that rice was needed because there is a "diminished" amount in the government rice reserves stock, which according to the National Food Agency, was at only 220,000 tonnes.
"Even though it's hard, because I don't agree with the imports, I have no choice," Mr Hasan told reporters.
Indonesia is the third largest rice producer in the world after China and India, according to the US Department of Agriculture.
But the country consumes most of the rice it grows. Still, farmers have questioned the need to import so much extra rice.
In 2022, Indonesia produced 31.52 million tonnes of rice, official data from Statistics Indonesia published in March showed.
Only small amounts of good quality rice are exported. Those exports do not contribute to the local rice stock shortage, experts said.
Ronnie S Natawidjaja, director of the Centre for Sustainable Food Studies at Universitas Padjajaran, said Indonesia ideally should have rice stocks of at least 1 million to 1.5 million tonnes.
"Having stock is a must … to prevent speculators from manipulating rice prices and stocks," Dr Natawidjaja said.
"But this is the controversial part: why ensure the stock by resorting to imports?
"Because, actually, our total production still has a slight surplus [in stock]."
What do farmers think about importing rice?
In 2022, Indonesia imported 500,000 tonnes of rice from Thailand, Vietnam, India and Pakistan, out of this year's import quota of 2 million tonnes.
The memorandum of understanding Indonesia signed with India in June allows for them to import a further 1 million tonnes, on top of the 2 million tonne quota.
While the Indonesian government emphasised the India agreement was meant only for "emergency" situations, many farmers do not understand the government's reasoning.
"The [possible] importation of 2 million tonnes of rice was also unnecessary and not urgent because, in fact, our national production is sufficient," Henry Saragih, the chairman of the Indonesian Farmers' Union, told the ABC.
"[Also] El Niño only occurs from mid-June to August, while the first and second planting seasons have passed. This June we have already harvested rice."
Mr Saragih said the farmers were concerned that if Indonesia continued to import rice, it would depress the rice price for farmers, although rice prices in supermarkets remain high.
How high is rice consumption in Indonesia?
Rice is a staple food in an Indonesian diet, and became even more prominent in the country during the "new order" era under former president Suharto.
When he was in power, he ordered rice be grown in every part of Indonesia, despite the fact that people in different parts of Indonesia relied on other carbohydrates.
His government made a strategy to increase rice production, hoping that Indonesia would become self-sufficient.
Today, rice consumption in Indonesia is one of the highest per capita in the world, at 114.6 kilograms per person per year, according to data released last year by the country's National Research and Innovation Agency.
In many Indonesian cultures, rice is consumed three times a day, almost with every meal.
It can start as early as breakfast, with nasi goreng (fried rice) and bubur ayam (chicken porridge).
Are there any solutions to the rice shortage?
To increase rice production, Mr Saragih said farmers must be supported in developing "agro ecological" agriculture that uses organic fertilisers.
Food diversification would also benefit farmers, he said, as it can be grown between rice plants.
"There were historical traces where our people consume a lot of sago, cassava, taro, so I think farmers should be encouraged and supported to produce them."
Dr Natawidjaja also said the country should look to grow other food products.
"We need to seriously consider food diversification, because carbohydrates can be obtained from potatoes, wheat, and other sources," he said.
He welcomed the strategy from the National Development Planning Agency which divides Indonesia into five sub-regions for the food system.
"There will be food hubs in each sub-region, where they manage their own local food, so the cultural differences as well as geographical and climate differences will be addressed locally.
"And that will be the homework of the next president," he said, referring to the upcoming election in Indonesia early next year.